SNOW UNISHORTS
---
Size chart
BOYS/ GIRLS
| Size | SMALL | MEDIUM | LARGE |
| --- | --- | --- | --- |
| Bust | 21-24 | 21-24 | 25-29 |
| Waist | 21-23 | 23-25 | 24-26 |
| Hips | 23-26 | 26-28 | 28-30 |
| Girth | 39-43 | 44-47 | 48-50 |
MEN/ WOMEN
| Size | X-SMALL | SMALL | MEDIUM | LARGE |
| --- | --- | --- | --- | --- |
| Bust | 30-33 | 32-34 | 33-36 | 35-38 |
| Waist | 25-27 | 26-28 | 28-30 | 29-32 |
| Hips | 31-34 | 35-37 | 37-39 | 39-42 |
| Girth | 51-57 | 55-58 | 59-62 | 63-66 |
All sizes are listed in inches (US). We provide FREE alterations at our boutique store for all our dancewear.
How to Measure Your Dancers:
Have dancers wear fitted attire (preferably a leotard–no street clothes!) with proper undergarments in order to ensure the most accurate measurements.
When measuring, instruct dancers to stand up straight, look forward, and take a deep breath in & out to allow for a natural fit and additional room. This is especially important when taking the girth, bust, and waist measurements.
Girth

 

- Girth is the most important measurement when determining size! To measure girth, place a tape measure at the top of the shoulder (typically where a standard leotard strap sits), then over the apex (fullest part of the chest), down through the crotch and back up to the same shoulder. Measuring tape should follow close to the body shape.
Bust/Chest

 

- Measure over the apex (fullest part of the chest) with your arms relaxed at your sides. Tape must be horizontal around the body.
Waist

 

- Find your natural waist breakpoint by bending to the side (typically 1" to 1 1/2" above the belly button). Stand straight and measure around your natural waist breakpoint. Make sure breathing is relaxed during this measurement. Tape must be horizontal around the body.
Hips

 

- Measure around the fullest part of the hips and buttocks while standing with your feet together. Tape must be horizontal around the body.
Inseam

 

- Measure from the center crotch point to floor for full length inseam and to center of ankle bone for ankle length inseam.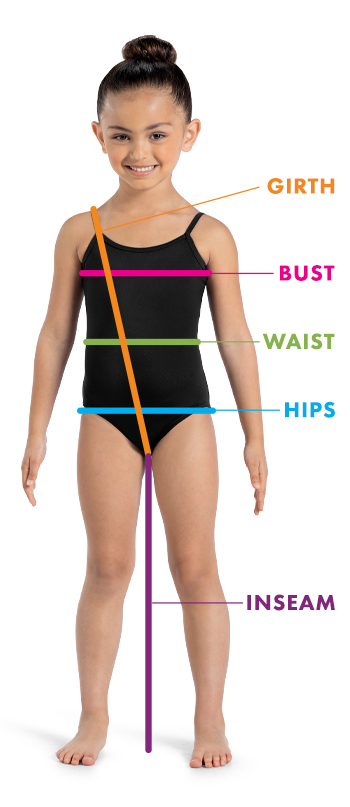 UNSURE ON SIZES?
Contact our style experts here
Short-length, One-piece design.
Upper body lined. Mesh and shorts are not lined.
Shown in Royal Blue in Adult X-Small
Made in the U.S.A.
Care Information:

Hand wash in cold water.
Do not bleach.
Do not soak.
Do not dry clean.
Do not tumble dry.
Wash inside out.
Wash dark colors separately.
Reshape whilst damp.
Do not iron.